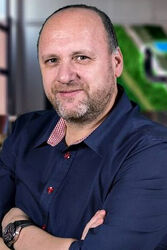 "
My desire to create video games dates back to the arrival of 3D real time [...] I felt like a pioneer filmmaker at the start of the 20th century: grappling with basic technology, but also being aware that there is everything left to invent - in particular a new language that is both narrative and visual.
"

– David Cage, A word about Fahrenheit..., 2005[1]
David De Gruttola (born June 9, 1969), known by his pseudonym David Cage, is a French video game designer, writer and musician. He is the founder of the game development studio Quantic Dream.
He was the main creative force and game director behind Fahrenheit: Indigo Prophecy.
Biography
[
]
David Cage developed a passion for music and aimed to make it his profession, even working as a freelance musician early in his career. He grew up during the boom of the video games industry and witnessed the democratization of home consoles throughout his teenage years. As a professional musician, Cage created the company "Totem Interactive" in 1993, which worked in music production and sound production. He worked as a freelance musician on several television, film, and video game projects, involved with creating original soundtracks.
In the early 1990s, David Cage wrote a video game script for a game intended for a PC and Playstation port. He presented this project to the major video game publishers of the time, who showed interest yet refused to commit in the absence of a clear development structure.
David Cage founded Quantic Dream in 1997. Since then he has written and directed all of the games released by the studio.
After developing his first video game title, The Nomad Soul, in 1999, Cage decided on a new path. The development of Fahrenheit began in 2002 and was released in 2005, becoming a critical and commercial success and setting a landmark for interactive choice-making in video games. Since then Cage has been considered as one the pioneers of the interactive drama, with an emphasis on storytelling, emotion, and innovation.
Cage subsequently gained further resonance after the release of Heavy Rain in 2010: the game received critical acclaim, sold millions of copies and earned many awards, allowing Quantic Dream to establish itself as a major video game development studio.
Cage next wrote and directed Beyond: Two Souls, released in 2013, starring Elliot Page and Willem Dafoe.
Cage wrote and directed the science-fiction video game Detroit: Become Human, laboring on it for four years until releasing it in early 2018. The game received generally favorable reviews and became Cage's most successful game launch.
References
[
]
↑

Quantic Dream (2005). "A word about Fahrenheit..." Fahrenheit. Atari. p. 4.
External Links
[
]